Four Books to share for Black History Month
As we approach  Black History Month, I wanted to share with you all a few of my favorite books that I like to share with others. You'll find these titles in the Tandem StoryCycles® circulating collection!
Martin's Big Words: The Life of Dr. Martin Luther King. Jr
By Doreen Rappaport
Illustrated by Bryan Collier
 
This is a wonderful book for learning about the great Dr. King. The illustrations are beautiful, as they show powerful portraits of King. This story portrays how Dr. King used words, not weapons, to fight the injustices of the African-American community. The illustrations alone allow for rich conversations with families, children, and educators.
Tandem tip: This book is recommended for ages 5-9. However, when sharing with younger audiences, don't worry so much about reading word-for-word, take time to talk about the illustrations instead!
I Love My Hair!
By Natasha Anastasia Tarpley
Illustrated by E.B. Lewis
 One of my favorite books!!! This is a great book for African-American children to feel good about their special hair and be proud of their heritage.
Tandem tip: As you read, ask your child what they love about themselves. Talk about what it is that you like about yourself, start a conversation and see where it leads you! There are so many things that make us unique, beautiful, and confident.

Moses: When Harriet Tubman Led Her People to Freedom
By Carole Boston Weatherford
Illustrated by Kadir Nelson
This is a beautiful book to introduce children to Harriet Tubman. The illustrations alone will captivate you and your little one on every page. This story details how this strong woman led hundreds of slaves to freedom in the Underground Railroad. This story portrays how Tubman's bravery and faith helped her to lead 19 trips from the south to help fellow African-Americans to freedom.
Tandem tip: This book is recommended for ages five and up. Pay special attention while reading to the rhyme and the musicality of the story. Highlight the rhymes for your child, ask them if they know other words that rhyme with the ones you point out as you read.
Feast for 10
By Cathryn Falwell
This is a great counting book that features an African-American family shopping together for food, then preparing it, and sitting down to eat together. This book is great to help kids with their counting and numbers, and to also start a conversation about the history of African-American families coming together during dinnertime.
Tandem tip: Keep the conversation going! Ask your child what they like to have for dinner. Next time you are shopping together at the grocery store, practice counting and numbers as you place items into your basket.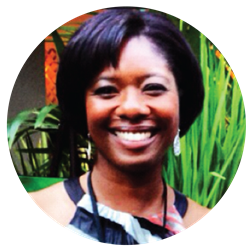 Michele Callwood
Michele Callwood is a former employee from Tandem. She currently works at San Francisco Black Infant Health where she works with African-American pregnant women. She provides case management services, facilitates prenatal and postpartum groups, and makes sure mothers have books in their home to share with their children.
If you'd like more information on SF Black Infant Health, please visit www.sfblackinfanthealth.org.