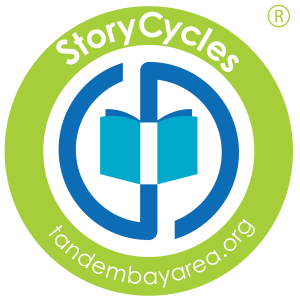 Many families throughout the Bay Area experience barriers to supporting their children's love of learning, including access to resources and information, cost, transportation, time, and language barriers. Tandem® provides programs that help families overcome these common barriers to establish simple, effective book-sharing routines.
Access
StoryCycles®, our new school-to-home book-sharing program, provides families with the access they need to high-quality children's books. Our multilingual books are age- and culturally-appropriate, and are sent home with children on a weekly basis from schools, family child care centers, and other Tandem partner sites throughout San Francisco, Alameda, and Contra Costa counties.
Each week, children take a bag of books home to share stories with their families and then return their bag the following week in exchange for a new bag of books to begin the book-sharing cycle again.
Information
StoryCycles® not only provides access to books, this program also provides information to parents and educators on how to make the most of each book-sharing opportunity.  Support materials encourage families and educators to read more interactively with children by providing tips and strategies for fostering a child's early literacy skills.
Experience
At Tandem, we believe every book-sharing experience should be fun – and every joyful book-sharing experience helps a child develop a lifelong love of reading and learning that sets him or her up for future school success.  We work together with educators to ensure that our Tandem StoryCycles® program fits the needs of the families they serve and provides a quality book-sharing experience every week.