Celebrando Día de Muertos con Alfabetización
Día de Muertos es una de mis fiestas favoritas. Me encanta que en mi cultura celebremos la vida de los que se fueron y tengamos un día en especial para recordarlos y esperar su visita. El humor y algarabía en estas celebraciones juegan un papel crucial, sin dejar de honrar la vida de nuestros difuntos.
Desde que era niña recuerdo a mi abuelita haciendo una gran preparación para poner la ofrenda  en octubre: sacando las fotos de los familiares que habían muerto, horneando pan, preparando pollo con mole y tortillas, haciendo dulce de calabaza, comprando flores, velas, y calaveritas de azúcar. Estos días eran muy especiales para mi  familia y a la fecha, mantengo una ofrenda permanente en mi casa para siempre recordar a mis abuelitos.
Dado que cualquier oportunidad es buena para  construir habilidades de alfabetización, he aquí unos tips  para hacerlo, celebrando al mismo tiempo esta fecha que tiene mucha riqueza cultural:
1.  Escriba calaveritas literarias con sus niñ Una de las maneras en las que los mexicanos nos "reímos" de la muerte es escribiendo "calaveritas literarias." Básicamente son rimas que se escriben sobre personas que aun están vivas pero en las que la muerte juega un papel divertido y gracioso. Como esta calaverita que mi mamá escribió para mí:
Contando un cuento a los niños 
Muy contenta estaba Dulce
Cuando la huesuda pasó muy atenta
se quedó escuchando la lectura
Al final de la historia la huesuda la jaló
Directito al camposanto a Dulce se llevó 
Ahora cuenta cuentos allá en el panteón
y todos muy atentos escuchan la lección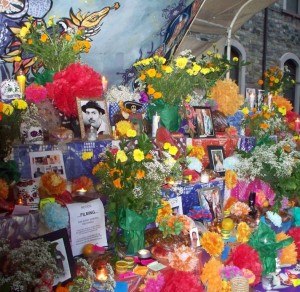 2.  Ponga una ofrenda en su casa para recordar a sus seres queridos que ya murieron.
Cuente historias con sus niños sobre las personas a las que están recordando y mientras pone la ofrenda describa todos los objetos. Lo que puede poner en su ofrenda es: pan de muerto, calaveras de azúcar, flores de diferentes colores naturales o de papel, flor de cempaxúchitl, fotos de la(s) persona(s) recordada(s), cirios o velas, cruz, calabaza en dulce, papel picado, agua, comida favorita.
3.  Comparta libros con sus niños con el tema de Día de Muertos. Le recomendamos: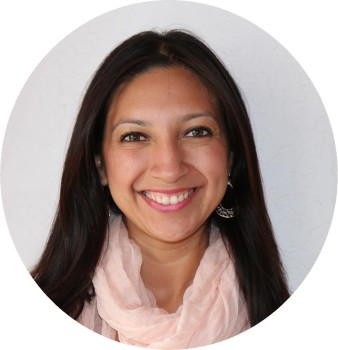 Dulce Torres-Petty
Coordinator, Brilliant Baby
Dulce Torres-Petty is a former member of the Tandem team. She is currently as a Coordinator with the Brilliant Baby initiative in Oakland, working to help families put their child on the path to success in school in life. Dulce is an Oakland resident and a proud Warriors fan.