Tandem, San Pablo Library Spark Families' Imagination at Special Literacy Event
On March 22, 2017, Tandem® partnered with the San Pablo Library for an afternoon of book-sharing, games, and excitement for spring. Michele Ramos, the San Pablo Youth Services Librarian, worked with Tandem staff members to plan and host the literacy event, which was all about encouraging families to learn and use library services. Tandem's Contra Costa County Community Literacy Specialists Dorothy Gray and Cecilia Valdez led activity and craft tables for the children, while helping family members fill out applications for library cards. Dorothy created a scavenger hunt that send kids and families searching throughout the library to get acquainted with available materials and services and to meet the librarians. At Cecilia's craft table, kids made butterflies out of yarn and Popsicle sticks to celebrate the approach of springtime.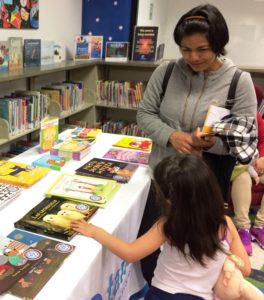 Throughout the event, children could visit Tandem's book giveaway table to receive free books for showing off their library card to Tandem staff. Kids of all ages—from crawlers to kindergartners—were excited to look through Tandem's collection of books and choose their favorite to take home. For library and Tandem staff, seeing a child's face light up at the sight of a great book is one of the most wonderful feelings. Fortunately, everyone had the chance to see a lot more smiles that day because Tandem Program Supervisor, Lucy Parada, worked with volunteer Tandem Literacy Champions to lead three interactive Read Alouds in English and Spanish during the event.
Loywonner Haddadou, a Literacy Champion from Richmond, attended the event with her one-year-old grandson Carson. Carson enjoyed exploring the library, hiding under the book giveaway table, and hearing Loywonner read to the crowd of children gathered around her chair. As the first guest reader at the event, Loywonner shared Alan's Big Scary Teeth by Jarvis with her excited audience of children and their family members. Her silly voices and big expressions were a hit, keeping everyone engaged in the story from start to finish.
Raquel Sustaita, a mother of two, loved leading all participants in a song in Spanish after reading Un Perro y Un Gato by Claire Masurel. Families laughed along with the silly hand movements and repeated lyrics of the song.
Near the end of the event, Michele Ramos took all the participating families on a tour of the library and invited all older students in attendance to take home a free chapter book, courtesy of the San Pablo Library. Michele noted that events like these are so important to the San Pablo community because many residents are not families with the library or its services.
"The San Pablo Library loves working with Tandem!" Ramos beamed. "It's wonderful to be able to offer free programs to our families that support early literacy. We're located in a high-need community in North Richmond in the East Bay, so being able to bring in quality programs that support lifelong learning and literacy is incredibly important and valuable." She also went on to explain that there are nine public elementary schools located in the city, most of which are Title 1, meaning that a majority of students participate in free and reduced lunch programs. In this community, Tandem responds to the higher need for supplemental educational programs to support school readiness by partnering with local public libraries and encouraging families to be move involved with children's early learning by supporting a healthy love of books and learning.
Stay Involved with the San Pablo Library
This summer, the San Pablo Library will open its new location near the San Pablo First 5 Center. The new library will be three times the size of the current library, with more books, resources, and more space for additional community programming.
Keep up to date with the library through Facebook and Twitter. Visit the library for more information on their upcoming Summer Reading Program, which supports a love of literacy while reducing "summer slide" for school-aged children. This summer's theme focuses on math and science topics, featuring weekly STEAM challenges, special guest speakers, fun activities, prizes, and more! Through the library's partnership with the Bay Area Discovery Museum's mobile maker program, the library will offer engaging interactive high-tech and low-tech engineering experiences appropriate for children in kindergarten through the middle grades.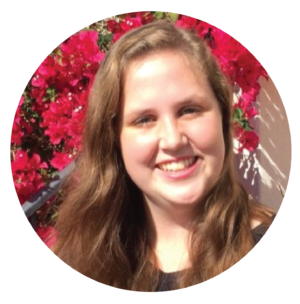 Dorothy Gray
Community Literacy Specialist
Dorothy Gray is a Community Literacy Specialist working in Tandem's Contra Costa County office. She currently lives in Oakland, where she enjoys trying out all the neighborhood food trucks.