Tandem Hosts First-ever Bayview Family Jamboree
On June 10th, Tandem® hosted the Bayview Family Jamboree at the Bayview Opera House in San Francisco. As guests arrived to the event, they were welcomed with coffee, a small morning snack bar, and a photo booth where they could take photos with their children. Lots of kids used the photo booth props and posed with their parents before going outside to check out the many other activities that made #FamJam17 a special community event.
Tandem Community Literacy Specialist LeNesha Jefferson kicked off Tandem's programming for the day with a Read Aloud of Mouse Paint by Ellen Stoll Walsh. Children and parents pretended to splash in paint and mix colors, just like the mice in the book. Afterwards, LeNesha was joined by San Francisco Program Supervisor Kelsey Gottschalk and together, they led a family workshop. As the adults learned about using books to support their children's social and emotional growth, children got to participate in activities led by talented staff members of the Edgewood Center for Children and Families.
Many of Tandem's partners joined the event after the family workshops, including: BMAGIC, Five Keys Charter School, Wu Yee Children's Services, Mission Neighborhood Centers, Seismic Safety Outreach Program. Other local partners provided resources and information to families about a wide variety of support services. Outside, we were lucky enough to have the San Francisco Fire Department bring Fire Engine 17 into the Bayview Opera House parking lot. Children delighted in meeting firefighters and having their pictures taken in the driver's seat of the truck. The Golden Gate Park Roving Ranger truck was also in attendance, staffed with park rangers giving away temporary tattoos and information about all the exciting summer programming for kids at the park.
While our families visited tables and collected stamps on their #FamJam17 passports, a fantastic lunch provided by Radio Africa Kitchen was served. After lunch, children and their families enjoyed a musical performance by Rado. The kids had a blast, singing and dancing along with Rado and his guitar.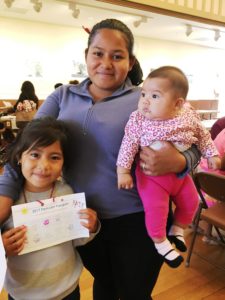 As the day drew to a close, Kelsey and LeNesha drew prize winners from the workshop attendees. Tandem gave away a 5-pack of tickets to the San Francisco Zoo, toys from Small Frys, a membership generously donated by the Museum of Craft and Design, and many other family-friendly prizes. Though not every family received a prize, no child left the event empty-handed. All children in attendance received a brand new book to take home and enjoy with their family again and again. Even older siblings were able to take home an age-appropriate book, thanks to Indeed.com, who donated a large amount of books perfect for elementary school-aged children and older.
Having so many families together to learn about book-sharing and supporting their kid's early literacy was exciting for Tandem and all our partners. We can't wait to host #FamJam18 next year!
Dwyn Asher
AmeriCorps VISTA Volunteer, Programs
Dwyn joined Tandem in March 2017 as an AmeriCorps VISTA member. She graduated from School of Visual Arts with a BFA in Photography in 2012. She is born and raised in the Bay Area and lives with Lysander, her cat, named after a character from Dwyn's favorite Shakespeare play. When she's not at work, Dwyn is most likely in the kitchen or planning her next adventure.