Share Stories with a Child, Reshape our World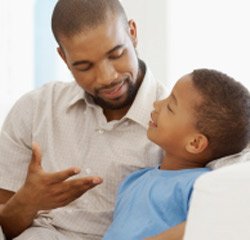 Imagine being a three-year-old right now.  From their perspective, it must seem that the adults have lost their minds. Think about what the world looks like 27 inches from the floor: when the grownups watch or listen to the news, they either fume or shout back, and lately they seem to listen to the news more than ever. They seem afraid. Or they seem mad. Mostly they are distracted.
In some homes, the adults are talking about moving, or not sending the children to school. They're making phone calls and writing postcards and going to meetings and marches. In other homes, there are meetings that make the grownups cry and yell. They're saying really confusing things. New words are thrown around and used in different ways – illegal, deportation, cabinet, ice. Another word comes up too, activist.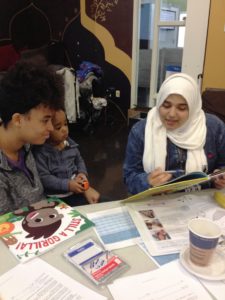 There is much to be done, and it is important that we stand up for one another during these trying times by working together to fight injustice and protect our freedoms. This week, I'd like to encourage us all to take a moment and exercise our activism with a quiet and powerful act – settling down to read a book with a child you love.
Books and stories are what bind us together as humans and as families. By sharing a book with a child, we soothe our own anxiety and theirs; we are sharing thoughts and ideas and possibilities, building critical thinking skills that all children need now more than ever. As we share books with our children, we can explore with them how to live the positive values that keep people together, rather than dividing them.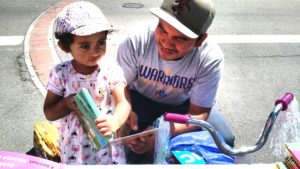 As each of us stretches ourselves into the public world with our urgent need to act, let's all remember the place where we know our words have lasting influence, and really do shape the future: on our laps, with a book and a child.
Be an activist for peace and compassion – share a book with a child today.
Three great books that offer opportunity to talk about kindness and compassion are:
A Chair for My Mother by Vera B. Williams
Last Stop on Market Street by Matt de la Pena
Stick and Stone by Beth Ferry
You can find these titles in our circulating StoryCycles® collection, or at your local library.
Also check out these titles that promote activism –
you can meet the authors of these great books at our upcoming 2017 Storybook Gala on May 17th!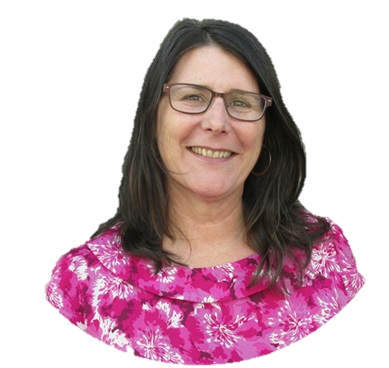 Molly Wertz
Molly Wertz is Executive Director of Tandem, Partners in Early Learning.  She currently lives in San Francisco.