Celebrate Father's Day with a Book: Great Titles that Celebrate Fatherhood
Oh, Oh, Baby Boy!
Written and Illustrated by Janine Macbeth
Age: Infant/toddler to Pres-school
Oh, Oh, Baby Boy! is a beautifully illustrated book. This masterpiece honors a young family of Asian decent, raising a newborn baby. The imagery of the essence of life is found throughout the story. The words in the story flow more like a poem or spoken-word piece. I love that at the end of the book there is an author's note on fatherhood, empowering all fathers and especially honoring the author's husband, who champions her work and fully supports their family. The author expresses, "Men—especially fathers—are integral parts of our communities. In lifting fathers up and allowing them to be more involved, more engaged, and more compassionate, we as moms give a bit of ourselves back to ourselves."
Tandem Tip: Take your time with this gorgeous picture book. The words in this story have a gentle rhythm, much like a healthy, steady, calm heartbeat. Enjoy this book with your loved one on your lap. Give them a kiss every time you turn the page. The book ends with that imagery as well, so it would be a great way to create a structure or pattern for sharing the story each time you read.
Baby Dance
Written by Ann Taylor
Illustrated by Marjorie van Heerden
Age: Infant/Toddler
This is a fun, colorful, and playful rhyming book that honors the joy fathers experience while playing with their children. I love the fact that the father is asking his daughter not to wake up her mother while she's sleeping, so the father and daughter dance and play together instead. The beautiful family has characteristics of African descent. I always celebrate and look for books with characters that mirror my community and my family.
Tandem Tip: For babies who are responding to music and movement, here's a playful poem that has a father and child dancing lovingly across its pages. Try singing along to the poem's rhythm, and dance along with your child as you go through the pages. Either holding their hands high, cradling them back and forth, or swaying side to side, there's no wrong way to move and dance as long as you're both enjoying the movement and the story together.
The Grandpa Book and The Daddy Book
Written and Illustrated by Todd Parr
Age: Pre-school
I love Todd Parr. Every art piece I've seen from him is an instant classic, and The Grandpa Book and The Daddy Book do not fall short. Both books were designed to encourage early literacy development, enhance emotional development, celebrate multiculturalism, promote character growth, and strengthen family relationships. Both books do just that and much more by also honoring all kids of Grandpas and Daddys and celebrating what makes each of them so special.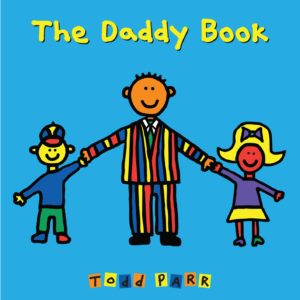 Tandem Tip: Fun books like these are great tools for developing vocabulary and promoting critical thinking skills. Ask open-ended questions about the details in the pictures. For example, say: "Woah, what is that thing around that Daddy's hips?" Point to the illustration. After your child makes a guess, say something like, "It does kind of look like that!" Validate your child's response in a positive manner. Then provide the answer, sharing a new vocabulary word. "This is called a hula hoop!"
Dad's Playbook: Wisdom for Fathers from the Greatest Coaches of All Time
Written by Tom Limbert
Age: For any father…
I love this book. It's not a children's book, but important to include in this list. I recommend it to all my friends who have kids. The pictures are great, and the quotes are from so many legendary coaches and icons from all different sports and are so motivational and inspiring. It is an easy read and the type of book you could pick up, open to any page, and be instantly reminded of the time you were in the delivery room, making that commitment to yourself to be the best Dad you could be. The book, which is more like a manual, is not just for parenting advice, but also a great resource for relationship advice and personal growth.
Tandem Tip: Don't be too hard on yourself. It takes a village! Maybe pick this book up while your child is reading too, so the family is all reading and enjoying books together at the same time. This is a great way to show how much you value books, reading, and learning as a family.
J. Jimenez
Alameda County Community Literacy Specialist
J. Jimenez is a Tandem Community Literacy Specialist for Alameda County and a Father Advocate who believes that strong, proactive parenting skills lead to healthy, positive child development. J. is a husband, future father, and future PTA vice president.